Auto Accidents and Whiplash in Woodbridge
Whiplash is the common term used to describe a neck strain, often associated with a traffic collision or motor vehicle accident. Other causes of whiplash injuries include physical abuse or assault, theme park or roller coaster accidents, and contact sports.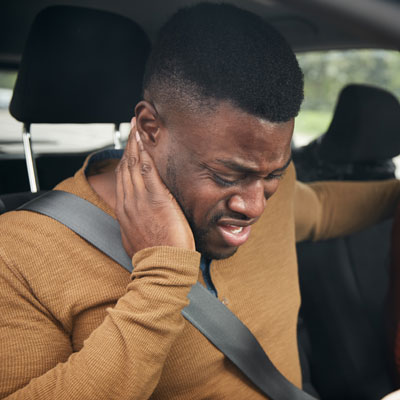 How Whiplash Happens
Whiplash is the most frequently reported injury after a rear-end crash occurs. In just a few short seconds, the stretching and hyperextension of the neck may cause months and even years of pain. Three distinct elements of a whiplash injury have been identified:
Initially, the neck is quickly and forcefully bent forward (flexion), losing its normal lordotic curve (the increased inward curving of the lumbar spine).
Next, the lower neck is extended, moving in the opposite direction from the flexion, causing the cervical spine (upper spine) to form an S-shaped curve.
Finally, the movement continues, until all bones are fully extended.
New Patients

Symptoms and Care
Whiplash injuries may involve muscle, ligament, or tendon damage, and injuries can occur at speeds as low as 10 mph. Whiplash, like other soft-tissue injuries, is an "invisible injury," and will not show up on an X-ray or MRI. Symptoms may not present immediately, often taking up to 24 hours to present. The most common signs of whiplash are
Neck stiffness or pain
Pain that worsens with neck movement
Headaches, especially at the base of the skull
Tenderness in the shoulder or upper back
Dizziness
Fatigue
At Vellore Chiropractic & Wellness Centre, we have the skills and experience to help speed your recovery from whiplash and get you back to your daily activities with less pain.
Protecting Yourself Following an Accident
If you've been involved in a car accident, don't tell your insurance company you feel fine until you've had a chance to be evaluated. Symptoms don't always present right away. It's possible you may feel fine in the first hours following an accident, but will wake up the next morning with severe neck pain.
We'll take care of all the paperwork for your claim, so you can spend your time healing. Contact our office today to schedule a visit.

Auto Accident Chiropractic Woodbridge, Vaughan ON | (905) 417-5272