Massage Therapy in Woodbridge
Massage therapy is considered an essential part of a healthy wellness lifestyle. Experts estimate that upwards of ninety percent of disease is stress related. Massage helps manage stress, and so much more.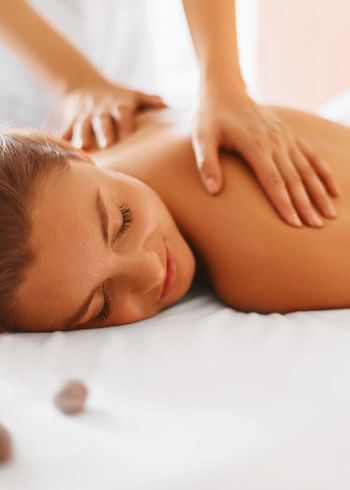 What to Expect
If this is your first visit to our clinic for massage therapy, please arrive 5 to 10 minutes before your appointment start time. Your massage therapist will come to the reception area, greet you, and guide you to your massage treatment room.
The therapist will ask you some questions to better understand your goals for the session and for your overall therapy. Once you and your therapist agree on the treatment plan, the therapist will give you instructions to get ready for the massage session. Undress to the level of your comfort, and lay between the sheets under the blanket.
When the hands-on session ends, the therapist will leave the room while you get dressed, and wait in the room for them to return. Your therapist may spend a minute or two discussing the session, or making self-care suggestions, such as stretching instructions or hydration tips. The therapist may also offer you some water before taking you back to the reception area to handle any financial responsibilities.
The day after the massage, you may feel more relaxed, more centered, more grounded, with greater body awareness, experience greater range of motion, and muscle ability. Sometimes, depending on the type of massage you received, you may experience some soreness, anywhere from 24 to 48 hours after your massage. Drink plenty of fluids and, if necessary, take some ibuprofen to take care of the soreness. The symptoms typically resolve within 48 hours after the massage.
Some benefits patients have seen with massage therapy are

Better concentration and mental clarity
Improved circulation/blood flow
Better injury healing
Improved surgical recovery
Better immunity
Decreased PMS symptoms of cramping and water retention
Deeper breathing
increased joint mobility and muscle flexibility
Improved posture
Less anxiety
Less fatigue
Lower blood pressure
More relaxation
Relief from headaches
Relief from joint pain and muscle aches
Relaxed tight muscles
Relief from stress
Conditions massage therapy may help with include

Anxiety and depression
Asthma
Cancer symptoms
Carpal tunnel syndrome
Chronic fatigue syndrome
Edema and swelling
Emphysema
Fibromyalgia
Frozen shoulder
Headaches
Inflammatory conditions
Insomnia
Joint dislocations
Multiple sclerosis
Neck, back and leg pain
Parkinson's disease
Pregnancy (pre- and post-natal)
Scoliosis
Sports injuries
Stress
Tendinitis
TMJ/jaw pain
Whiplash
Increase the Benefits With Regular Visits
While getting a massage may do you a world of good, regular massage therapy may play a huge part in how healthy you'll be now and in the future. That's the beauty of bodywork.
Our therapists were voted Best Massage Therapist by Vaughan Citizen Readers' Choice for 2017, 2018 and 2020. Come experience quality massage therapy at Vellore Chiropractic & Wellness Centre. Book your appointment today!

Massage Therapy Woodbridge, Vaughan ON | (905) 417-5272