Orthopedic Physiotherapy in Woodbridge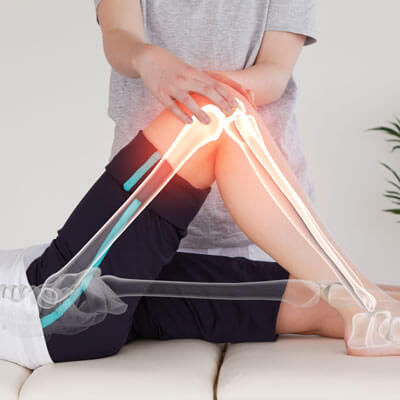 Orthopedic physiotherapy involves the care of your entire musculoskeletal system, which includes your bones, muscles, ligaments, tendons, joints, and connective tissues. It specialises in diagnosing and treating conditions affecting any part of your musculoskeletal system, and works to integrate all bodily systems—especially the neurological and cardiovascular systems—with your musculoskeletal system to treat your injury or condition.
What to Expect
On your first visit, your Registered Physiotherapist will evaluate your condition, and determine the appropriate movement diagnosis. After a thorough assessment, an appropriate care plan, focused on functionality, will be created to address your particular needs. The physiotherapist will administer therapeutic care, and educate you on how to manage your current condition to prevent further injury.
The outcome of your therapy is heavily dependent on your compliance and consistency with your treatment program. We may see you a few times a week and you will continue with your home exercise program. We provide the tools and exercises you need to heal and consistency with home exercise is an important part of recovery.
Conditions We See
Registered Physiotherapists can treat almost any condition that affects your ability to move or function physically in your daily life. Some common conditions addressed include
Chronic pain (lasting three months or more), such as arthritis, osteoporosis, bursitis, nerve damage, chronic low back pain, chronic joint pain
Acute pain (less than three months), such as dislocations, hernias, fracture, sprains, strains, impingements
Frozen shoulder
Limited range of motion
Lymphedema
Muscular dystrophy
Cerebral palsy
Parkinson's
Scoliosis
Spinal stenosis
Plantar fasciitis
Stroke
Sports injuries
Post-operative recovery and more
Treatments Used
Physiotherapists may use a mix of passive and active methods in their care plan, including
Joint mobilization—the therapist applies a rhythmic back and forth movement or sustained pressure to any affected joints in the body.
Joint manipulation—while you lie still, your physiotherapist applies a small, quick movement (such as a push or pull) to bones and joints. The movements may vary in terms of force, from gentle to forceful. Please note that this is different than a chiropractic spinal adjustment.
Both joint mobilization and joint manipulation help loosen any tight tissues connected to the joint, as well as decrease pain in the joint and surrounding areas. These techniques also help improve flexibility and alignment, restoring proper function.
Soft tissue mobilization—treatments such as ischemic compression, cross-friction and trigger point therapy are applied to muscles, tendons and ligaments. The focus here is on relaxing muscles, increasing circulation, and breaking up scar tissue to increase motion and decrease painful tightness or restrictions.
Myofascial release—using light, manual pressure, the physiotherapist will compress and stretch a trigger point in your muscle (the thin connective tissue surrounding and supporting your bones, organs, nerves, blood vessels, and muscles). After holding the point for a few seconds or up to a few minutes, they repeat the process as needed, on each trigger point they find, until they feel a full release.
Other tools include hot or cold therapy, electrical stimulation, traction, light therapy, and kinesiotaping. Exercises may include muscle stretching, exercises (such as balance, endurance, plyometric, and jumping-type exercises) and exercises with resistance from the therapist to improve muscle activation and timing.
You'll also learn safe exercises to do in between sessions, as part of a home exercise program, to help increase the speed of your recovery.
Get the Best Results
Here are some tips to maximise your outcome:
Don't rush your recovery—it may be tempting to overdo exercises or return quickly to activities once pain subsides. Be careful, because this could lead to injury, putting you back to square one. With any new exercise, activity, or increase in intensity, always check first with your physio.
Communicate and ask questions—communication is key to getting the best results out of therapy. Describe your symptoms in detail, and let your physiotherapist know what makes them worse and what brings you relief. Always let your physiotherapist know the smallest, seemingly insignificant details about your condition, and don't hesitate to ask questions.
Set goals—everyone under care should have goals and keep track of their progress. Your physio helps you determine if you're making progress. Having a goal motivates you to make all your sessions.
Don't skip therapy sessions—once you start feeling better, don't assume you no longer need to keep your appointments. Your plan is not complete until treatment has concluded and your therapist gives you clearance.

Orthopedic Physiotherapy Woodbridge, Vaughan ON | (905) 417-5272