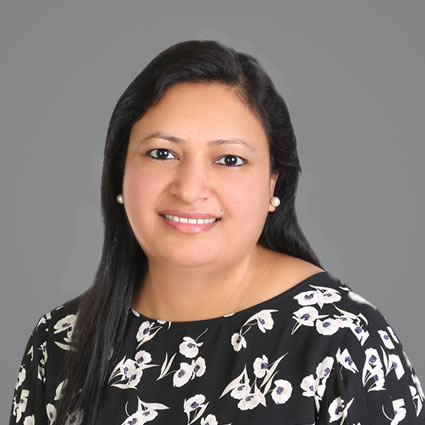 Ritu Saini, Registered Physiotherapist and Pelvic Floor Physiotherapist
Ritu Saini, Registered Physiotherapist (PT) obtained her Bachelors of Physiotherapy in 2005. After graduating, she first worked for the renowned Apollo Hospitals group in India as a physiotherapist in the Out Patient Department (OPD) and in the Intensive Care Unit (ICU). She treated patients with musculoskeletal conditions as well as critical care needs. With over 15 years of experience, Ritu has helped her patients successfully treat a wide range of conditions ranging from vestibular rehabilitation, concussion, pelvic health, athletic injuries and post-surgical rehabilitation.
Her goal is to relieve patients' symptoms and improve their quality of life so they can regain independence and get back to their daily activities as soon as possible.
Ritu is currently certified in: Pelvic Floor Physiotherapy Levels 1,2 & 3 Concussion Management Vestibular Rehabilitation Fellow of the Canadian Academy of Manipulative Physiotherapy (FCAMPT) Level 1 As part of the team at Vellore Chiropractic & Wellness Centre, her treatment is focused on a combination of manual therapy, individualized exercises, and modalities such as shockwave therapy to not only help restore health but also prevent future injury.

Ritu Saini | (905) 417-5272