Shockwave Therapy in Woodbridge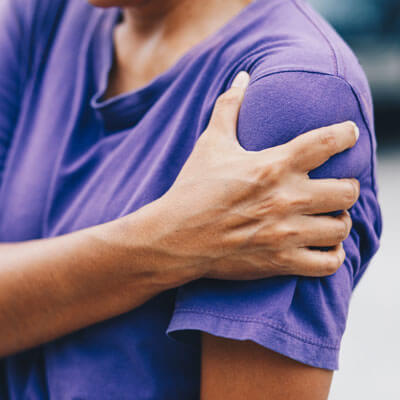 Shockwave therapy is an innovative, non-invasive modality treatment offered by physiotherapists in our clinic. Also known as extracorporeal shockwave therapy (ESWT), this new treatment involves bursts of high-frequency, high-energy pulses which are transmitted into injured and painful tissues.
To accelerate tissue healing and provide offshoot pain reduction, short duration, high-energy impulses of mechanical energy activate the injured target tissues (muscles, tendons, ligaments, bone, etc.) at a cellular level. This stimulates a healing response in the tissue targeted and reduces inflammation while promoting tissue repair. This approach is capable of accelerating tissue healing while also minimizing scar tissue production.
Conditions that we have seen improve many times at Vellore Chiropractic & Wellness Centre:
Shockwave therapy can be an effective component in your physiotherapy treatment plan, for common conditions and injuries such as:
Achilles Tendonitis
Frozen shoulder
Chronic stress fractures or pain from non-union fractures
Golfer's elbow
Tennis elbow
Jumper's knee
Hip bursitis
Retrocalcaneal bursitis
Morton's neuroma
Plantar fasciitis and other foot or heel pain
What to Expect
Patients may experience mild discomfort while you are being actively treated with the shockwave device. The shockwave treatment portion of your session will typically last 5-10 minutes and is administered by your therapist directly on the skin through a hypoallergenic conducting gel which helps minimize discomfort while increasing tissue penetration.
Depending on your condition or injury's severity, your response to care and your overall treatment plan's recommended schedule sessions, your physiotherapist may recommend that shockwave be included once or twice each week.
FAQs
Who is an ideal candidate for Shockwave Therapy?
Those with acute and chronic soft tissue pain, as identified by their chiropractor, are ideal candidates to receive Shockwave Therapy.
Will I need anesthesia for this therapy?
No, it's a comfortable experience.
How many sessions will I need?
While the care plan for each individual will vary based on many factors, typically three to five sessions (one per week) are recommended, but chronic conditions may require more visits.
Book an Appointment
If you'd like to learn more about Shockwave Therapy contact our practice today to schedule an appointment.

Shockwave Therapy Woodbridge, Vaughan ON | (905) 417-5272